Ok... I'll confess! :D I haven't finished up the different color variation of my bag! I have all the parts done, and I just need to join them... :P
Anyway, crochet snowflakes have been in my mind a lot lately instead of the bag. :D
My initial plan was to make our Christmas tree full of crochet snowflakes this year, but I'm not sure that is going to happen... I will probably make a couple more for myself, and some more for my ESL teacher at my local church.
I'm just super busy everyday with contracts, and I want to stay that way. ;)
One new thing I started recently and truly enjoy is teaching crochet. Some of my friends come to my house on Mondays to learn crochet, and I just love it! :) We have met 3 times already, and all of them have finished at least one snowflake. Today was our last meeting to talk about crochet snowflake, and I wanted a pattern that uses worsted weight yarn. So... I visited
Crochet Pattern Central
first as always and found
Linda's Snowflake Potholder pattern
. I just made 1 layer instead of 2 so mine doesn't function as a potholder, but it makes a nice hotpad, I think. :)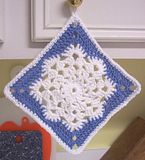 I'm sure if I just use #10 thread and follow the pattern + make the loop longer, it must make a pretty snowflake ornament that require only light spray-starching and ironing... but this time, I decided to make a coaster instead. :P All I did was adding an extra round with color B(blue in this case) and the simple ch-&-sc edging instead of sc edging.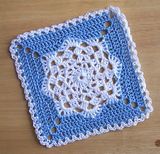 All of my students liked them, and they all decided to make either the hotpad or the coaster :) Next time, I am going to teach them symbols and diagrams, and after that, they are going to start whatever crochet project they like either with yarn or thread.
*****
Lastly, I just have to share my pretty dahlia with you all. :)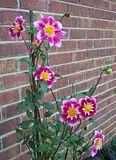 Hope you all are having a good week!