I've put out some fall/Halloween decorations today, and I just had to make these. :)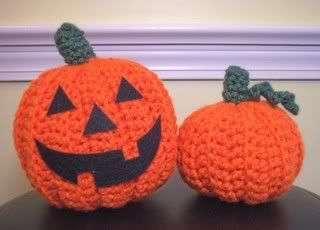 I changed # of stitches and rows on
Marlo's Puffy Stuffed Pumpkin pattern
to make those pumpkins because I used Bernat Softee Chunky which was not worsted weight yarn that the pattern calls for, and also I wanted to make smaller pumpkins. I used sticky-back felt for the face.
My son absolutely loves them, and that makes me so happy! :)
I'm thinking about making
Dimensional Pumpkin Potholder
next. I always have a crocheted potholder/dishcloth hanging in my kitchen, and seasonal one like this one would be fun, don't you think? :)
Oh, and that just reminded me of something... Did you all know about
Lily's Dishcloth Contest
?! I love Sugar'n Cream yarn, and I just have to enter this contest. Why don't you join too? :) I think it will be so much fun!