Hi all!
First, I think I should let you know that there won't be an exciting news on this post about my design submissions... I so wish I could give you one though. :D
There were times when I got a little sad and discouraged, but I also had some things that helped me get back to be my positive self. :)
I have to show off my very first tomato I harvested!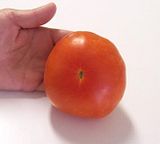 I do my watering and caring for my tomato plants although I think they can pretty much grow themselves. :) I even speak to them to encourage them to have delicious tomatoes. :D I just know it helped, just look at my tomato! It's amazing. It tasted heavenly too. :)
And of course, I did some shopping as well! ;D
Here is my beautiful, long-awaited, yarn-winding pair!!!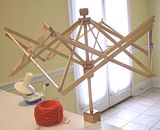 After I wound up my first yarn cake, I thought, "Why in the world I waited this long to get them?!". :D The experience was so much like meditation... or even
zen
(
"Visually rich, funny, intuitive, basic introduction to Zen. Produced by Kodai-ji Temple, Kyoto, Japan."
- Google Search)! Now I want hanks of yarn just to wind! LOL
Have a
happy Father's Day
weekend!!! :)