I love this leaflet!!!
All of my friends who come to my crochet classes wanted one too when they saw mine, and they all ordered one. :D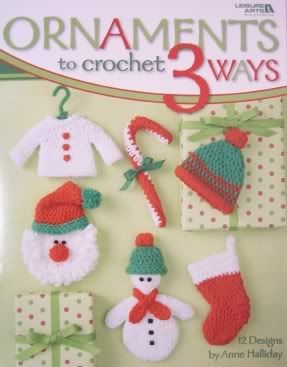 Leisure Arts "Ornaments to Crochet 3 ways"
I've made 7 ornaments already, and I'm working on 8th. I'll probably end up making all of the ornaments in this leaflet. They are our current projects as well for my crochet classes.
You can use worsted weight / sport weight / #10 thread for these ornaments, and I chose sport weight. The main stitch used for these patterns is slip stitch unlike the traditional single crochet stitch used for many small projects.
My ornaments are going to be a gift so photos will be posted after they have been received by a recipient. :)
*****
By the way, I found some nice crochet & knitting patterns (Click the Adobe icons below project photos):
http://www.clover.co.jp/hand/hand54a.htm
I'm really sorry, but I won't be able to answer pattern/diagram questions..., but hope you like them! :)