**********Crocheted Butterfly
~ This pattern is for personal & non-commercial use only ~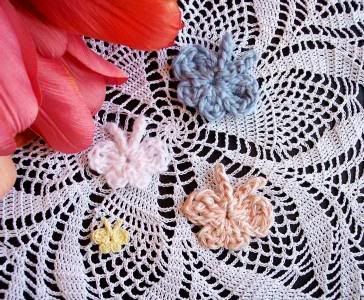 Materials
* Small amount of yarn or thread
* A crochet hook in suggested size for the yarn/thread you are using.
Gauge
Not important
Stitch Note
tr = treble crochet
Butterfly
Ch 3, sl st in 1st ch to form a ring.
Note:
1 round completes the butterfly.
All of the stitches on Rnd 1 is worked in the ch-3 ring
, and stitches need to be pushed toward the beg of the rnd as you crochet.
Rnd 1:
* ch 3, 2 tr, ch 3, sl st **, [ch 2, dc, ch 2, sl st] twice, rep from * to ** once, [ch 4, sl st in 2nd ch from hook and next 2 ch, sl st] twice.
Fasten off.
Yarn ends can be used to attach the butterfly onto various things.
**********
The above pattern was tested only by me once so if you notice any errors, please let me know. I hope you enjoy my pattern! :)