I'm so sorry for having put this blog aside for way too long! (-_-;)
My son, Hubby, and I stayed sick almost for the whole November with relapses of serious cold symptons. Since we all got well again, I have just been super busy with my work, my son's school events, and the holiday preparations!
I have done so many things in the very short time, and I could type about them all day long, but I really shouldn't because I have some cooking and wrapping to do today. :) I'm thinking about making
this
. :) So.. I just have to make each story short! :D
I mentioned on my last post that he was in the hospital...
My father is 63 years old and he still enjoys
paragliding
! He dodged other people flying at a competition and hit a huge rock on the mountain. He broke rib bones, hip bone and smashed a couple pieces of back bones. He had a surgery and got well super quickly, and my mother told me recently that he is flying again! *sigh*
His doctor told them that my dad has bone density of a man in his 20s!!!!!! Everybody is amazed how quickly he recovered.
I was so bad... I coudln't finish his lapghan. I needed one more skein to do that, and my local craft store never restocked the yarn in the same color! :( Also like I already said, he recovered too quickly for me to finish it too, and now I don't feel like finishing it because I know he is not planning on stopping to sit and relax or anything. He's already told me that his next goal is to sail Mississippi River with his 2 grandsons! I don't know any other 65 year-old man like my dad, seriously...
*****
My crochet students have made beautiful snowflakes, shawls, lapghans, dishclothes, etc. I really enjoy Monday mornings crocheting with them - although I had to cancel many lessons in November. :( I need to remember to take photos of their work to share them here.
I'm so ashamed of
my 2006 album
! There are only 10 photos there... But believe me, I actually made so many things! Here are just some of them. ;)
You can always see some of the things I made at
Stitch Diva Studios
, and... oh! I almost forgot, I made the
Celebrity Look-Alike Shawl
again for a friend just recently. I forgot to take a photo of it so I can't share it, but I just have to say, I LOVE this pattern. I always use
TLC Amore
for this shawl, and I love the softness and how light the shawl turns out to be with this yarn.
I sent a crocheted hat to Leisure Arts "
Cap with a Conscience
". Mine is on the
gallery
page along with other great crochet/knit hats. :)
I recently crocheted a sample garment for another fabulous designer -
Robyn
. She posted a
sneak peak
of it on her blog. ;)
I also made a hat & scarf set for a Japanese lady and just sent them. Of course, I forgot to take a completed photo once again, but I have a progress photo: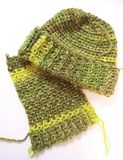 *Clickable*
The yarn used for this set is the beautiful
Berroco Foliage
in color "Palm Frond". I ended up just crocheting the scarf straight and put some good old fringes. I haven't heard from her yet so I don't know if she likes them, but I really hope she does...
I have one favor to ask all of you.
I just found out that my good friend's husband has pancreatic cancer. Please, PLEASE pray for them. My friend is one of the kindest and sweetest ladies I've ever known. She always supports me, makes sure my family and I are doing fine, and sends me her beautiful thread works on every special occasions. If I posted photos of my works, I would eventually have to put her name on my blog title instead of mine!
*****
I hope everyone will have a very merry Christmas and a happy new year!
I'll be back when the next year comes. :)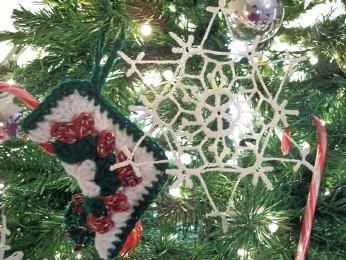 A snowflake I made last year, and
this stocking I quickly made today is from a Japanese book.