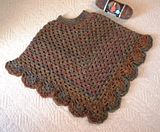 +Size "Coming Home" poncho pattern
from Lion Brand website
I used plus size pattern this time, but I made the poncho shorter than the pattern suggests.
The yarn is
Homespun
"Prairie", and the color is described as "Mixed medium cool browns with a hint of green", but I also see colors like red, blue, and purple.
I probably should have picked a lighter color.....
*****
I upgraded my Haloscan account so that I'll get notified when I receive comments!
I'll try to reply to your comments individually via e-mails from now on. :)