I hope everyone had a wonderful Thanksgiving. :)
We had a little family gethering at my SIL's house.
I baked a 4-layer pumpkin cake, which I got
its recipe
from
kraftfoods.com
.
If you love creamcheese and pumpkin, this cake is for you!
It was a hit, and women at the gethering begged for the recipe. :)
By the way.....
Do you remember my crochet snowflakes I made in August?
Well, they are on our tree now! :D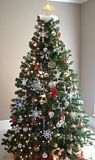 I just wish I made more snowflakes...
I'm pretty sure I'll be making more for years to come.
I just LOVE how they look, and my son never wants to leave the side of the tree. :D
The information about my crochet snowflakes can be found
here
and
here
.
Also...
In an evening after Thanksgiving, I made the famous "Coming Home" poncho. :)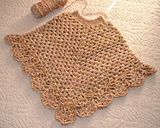 Pattern from Lion Brand website.
I used
Homespun
in color "Sierra".
I'm not sure if I picked a right color for my younger sister, but this poncho is very WARM. My sis is always cold so I know she will wear it. :D
I'm now working on another one in different color.
It's going to go to my mom. :)