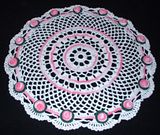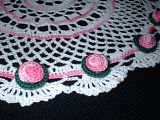 Pattern :
Rosebud Doily
Source :
Magic Crochet - April 1997 issue
.
This doily is the one I had wanted to make so badly. As soon as I received the thread in the mail, I ripped the box open and started crocheting this right away. LOL
Some of my fellow Japanese crocheters have made the same doily. It is interesting to see how the same pattern comes out so differently depends on who makes it.
Rinrin
makes BEAUTIFUL doilies, and she is such an inspiration to me! After entering her site "
Gallery Big Bear
", click on "Atelier Rinrin" to see all of her breath-takingly gorgeous doilies.
Also, you can't miss "
Filet Crochet Lace Bonita
", where
menko
displays her gorgeous floral and filet doilies
.
Click on "Floral Garden" to see her Rosebud Doily and other beautiful floral doilies.