I finally got my yarn for the 63 square afghan and finished the first single crochet stitch square over the weekend. ;D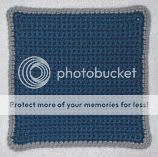 My yarn is Caron's "Perfect Match". The colors are, from your left, Taupe 7751, Rose 7709, and Cape Cod Blue 7736.
I used size H hook as suggested, and the size came out fine for this square. I have started on square #2, but it seems like I have to use smaller hook to get the size right.
I also made these. :)
The patterns are from Leisure Arts booklet, "Kitchen Decor".