Hi ! ! !
I bet you all thought I was gone to Japan... for good. :D
First of all, THANK YOU all who emailed me/left a comment for me before/during/after the trip, and I sincerely apologize I had not been able to either thank each of you personally or post on this blog to let you know how my Japan trip was... I was just too tired from the trip... I also started working on the first weekday after we came back (I love my job!), I was trying to re-adjust to the time and the summer heat here, my 6-year-old has been home for summer, and Hubby just had a-week-long summer holidays too so I was so busy and just couldn't find the time and energy left to email or to post here.
Well, the trip was exhausting, but of course GREAT!!!
We first flew from Jackson, MS to Detroit, MI (2 1/2 hours in the air), then from there to Osaka, Japan (14 hour). I know it was hard for my son, but he handled all that flying really well. - He only had to get up ONCE to go to the restroom in the airplane (I still wonder how he could do that! :D ), and the rest he played his Nintendo DS, did some origami, colored, read some books, watched movies, slept & ate. :) I was also very thankful for the 9-year-old boy whose seat was next to his. They both had the Nintendo DS and Japanese moms :) so they kept each other entertained playing games and speaking in English sprinkled with Japanese words, and listening to their conversation was really fun. :D Oh, and I managed to make five of the potholder below, which I gave away four of them later and kept one.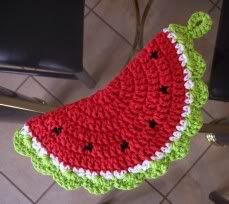 "Watermelon Slice Potholder"
Pattern from: Leisure Arts "Kitchen Basics in Cotton"
Yarn: Lily Sugar'n Cream
I just love the bright colors and the watermelon potholder is just perfect for summer, don't you think? :) This was a super quick, fun project, and the pattern was easy to follow.
Anyways, here are some photos from the trip!!! :) I'm not really a camera person, and I found I only have 144 photos total which include the ones my family and friends took.
*Kasai Flower Center*
Not even one of the plants there were wilted or sick. We enjoyed their gorgeous flowers so much!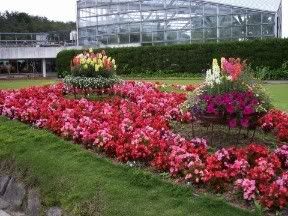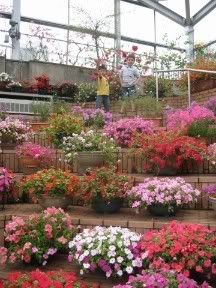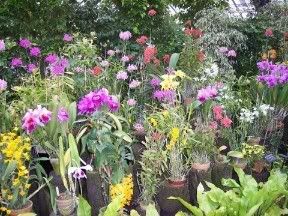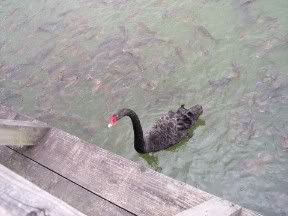 *Himeji Castle aka White Heron Castle*
This castle is a World Treasure and 400 years old. The link above explains the castle's history.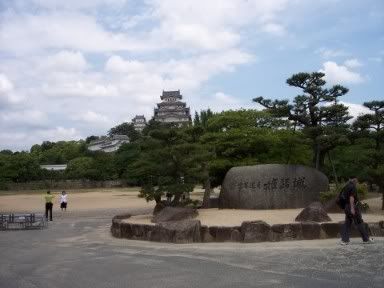 *Universal Studios Japan - USJ*
Popeye and Olive welcomed us at the gate, and there was a parade with Hello Kitty, Peanuts, Sesame Street, and Shrek! USJ was a lot more like Disney Land. - Very kids-friendly.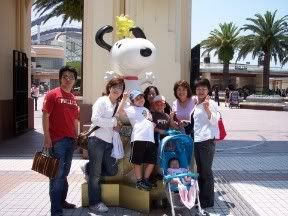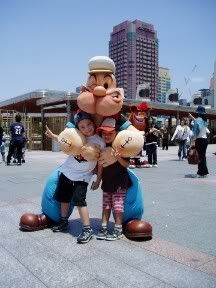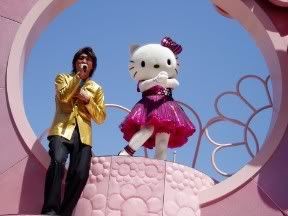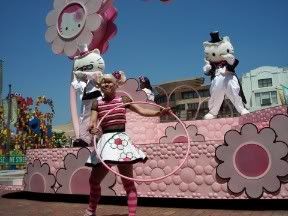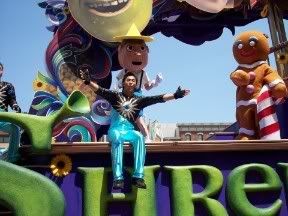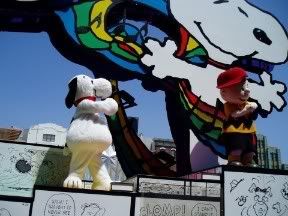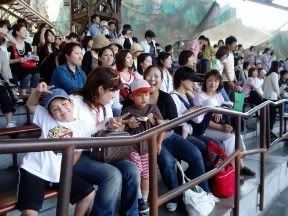 *Clamming*
Clamming is a great activity for children! I used to come to this beach for school excursions when I was 6-8 years old, and it had not changed a bit... the old beach houses and everything! :)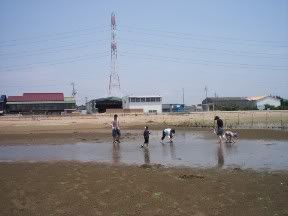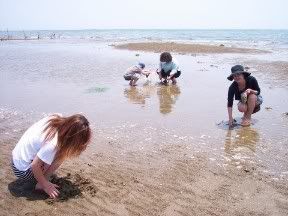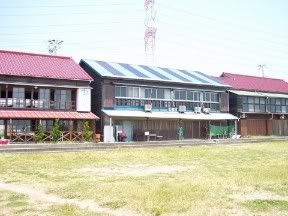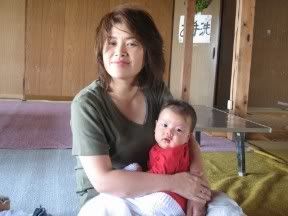 We found a bunch of clams and took them home. Mom cooked them next morning, and wish you could see my son's face when he saw his precious clams in
miso soup
!!! :D :D To him, they were his new pets, and nope, he would never eat them!
By the way, I am in the last photo with my 5-months-old niece (The newest addition to our family!) enjoying the cool ocean breeze inside of one of the beach houses. She is just so cute, I call her "Ohime-sama (princess in Japanese)"! :D
My hometown is Hyogo prefecture in Japan. If you are interested, read about it at
Hyogo International Tourism Guide
.
My baby sister wanted me to crochet her a drawstring bag badly. :) When she took me to a small craft store, she picked up a couple of white and black cotton yarn, and I also found this bag design on one of the crochet books I skimmed at the store and later made this for her. I love it that the stripes are swirled. :):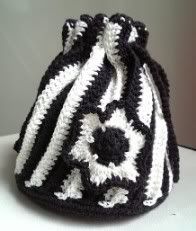 The design was in a Japanese crochet book.
Oh, you know what, that was the ONLY time I went to a craft store in Japan. I thought I would be going to yarn stores buying many yarns and crochet & knit books and tools, but all I bought was just 2 crochet books, 2 origami books, and I picked up just some acrylic yarn at a 100-yen store to make some
tawashi
(crocheted scrubber) to use at home. They have acrylic yarns that resist bacteria & odors, and they are just perfect to make practical
tawashi
with.
I also made three simple hotpads for Mom, but I forgot to take a photo of them. :( She actually uses and keeps my crocheted gifts really well, which makes me very happy. :)
Other than what the photos above show, we ate LOTS of yummy food (Still, I came back weighing 2 lbs less!), visited relatives, went shopping, and spent great time and laughed with family and friends. I miss them so much already, but I'm also very happy to be back home having our rather slow, normal life with my family here in Mississippi. :) Since we came back from Japan, we've enjoyed tomatoes and
edamame
(edible soybean) from our garden, and I'm waiting anxiously for the day when I can harvest radishes! Ahhh, I love life!!!