I thought, it's really about time I made a new post and let my crochet friends know how I've been doing. :P I'm so sorry for being such a bad blogger.
I have been trying to design so hard... And the good news is, I got my first design accepted for publication!!! I'll be sure to let you all know when it's out. :) Honestly, I had lost hope before I heard back from them, but... some things really are worth waiting!
I did some more design submissions, and I'm waiting to know their results.
I really do want to be a professional in this field, and I know some bad news won't change my mind! This is my second time to set a big goal and work for it. I reached my first goal although I had to struggle for it so I know I will be able to reach my second goal as well someday if I keep doing what I have been doing! :)
I haven't had time to crochet using patterns, but Hubby asked me to crochet
"All Dressed Up" baby booties
again for his co-worker, and I really have to finish making them like... tonight, which I haven't even started! LOL Cross your fingers for me. :)
It's not crochet-related, but I thought maybe I can share my favorite toys because they are so cute! :D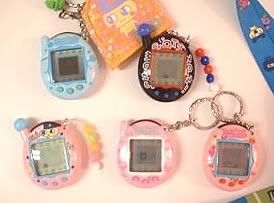 All pink ones are mine, and other two are my son's. Two of them that have little beads are Japanese "Tamagotchi Plus" aka "
Entama
", and the rest are US
Tamagotchi Connections
. I've always liked Tamagotchi since their first debut in the market. I just love raising them to see their different stages of their lives! :D My son and I take our Tamagotchi wherever we go, and they are always by our sides. LOL Every time, Tamagotchi call us, we jump and rush to them to see what's wrong. LOL
Now all of our Japanese friends who live near us have Tamagotchi, and every time we meet, we start with doing the connection thingy with each other and always hear Tamagotchi calls from somebody's bags. LOL LOL
I can't wait for next version to be released already! :)