Hi, all :)
I still crochet, and here is a proof. :D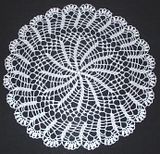 Design and pattern by Kyoko Kobayashi
Pattern source: "Lace Ami Karei na Doily - Crochet Lace"
Publisher: Ondori-sha

I used #20 thread and size 1.5mm hook for this doily.
I don't work with thread as much as I used to anymore since my vision has gotten worse and my eyes are so dry, but that'll never stop me from crocheting. :D
*****
Actually, I have crocheted like a mad woman. :D
And really, I think I'm obsessed with this craft. LOL
I did some sample making, and you can see one of the things I crocheted
here
.
I was so excited to see it on a model! :)
*****
I'd like to thank all of you who sent me concern E-mails, cards, wonderful crochet gifts while I was away from posting on this blog.
Your kindness and generosity are so encouraging. I really can't thank you enough! *hugs*
Oh, and for some of you who asked if I am going to close this blog... The answer is no. :D
I promise, I'll post as soon as I have something I can share. :)