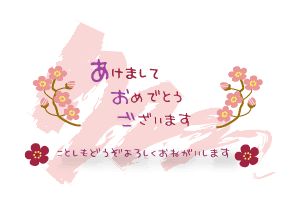 Above image says, "Akemashite omedetou gozaimasu" = Happy new year. :)
Following the Japanese tradition, I did lots and lots of cleaning in and outside of the house before the new year's day.
Then Hubby, my son, and I celebrated new year with delicious
Japanese plum wine
on the rock (Fruit juice for my son, of course!) and
ozouni
. :)
This year is the "
dog year
", and I am "
toshi-onna
"!
For this new year, I will keep doing my best in everything I do, and I will continue enjoying crocheting! :)
Oh, and I will try to read more to be able to write creatively in English, too (About time! LOL)! Yup, I really should. :D
I know my posts have been super boring to read, and my visitors have such broad heart( I am not even sure if this sentence means what I want it to. LOL I want to say "You all are so kind and forgiving" to read my posts). :)
Anyways, I'm wishing everyone's new year will be happy and healthy!