First of all, THANK YOU so much for your prayers and well wishes!
I was sad and so worried for about 2 weeks after Katrina passed, but I'm fine now. Things are back to normal around here, and I am so glad.
It's been almost 2 months since the last post with my own crochet items.
Finally, I managed to finish a doily! :)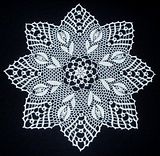 "Tulip"
Design and pattern by Kyoko Kobayashi
Pattern source: "Lace Ami Karei na Doily - Crochet Lace"
Publisher: Ondori-sha
Do you see tulips? I think they are lovely. :)
I used #30 thread for this doily.
I love Ms. Kyoko Kobayashi's doilies so much that I am planning to make some more.
...And I finished another one which is not Ms. Kobayashi's design, but it is one of my favorite patterns available online!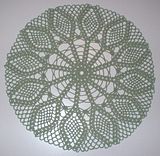 "Pineapple Doily"
from Coats & Clark website
I have been super busy, and I couldn't find much time for my favorite hobby since we moved at the end of July. New life in the new environment, new friends, new job, Katrina, and taking care of my 4 year-old have pretty much occupied my time.
Last two months just flew by.
This month is going to be busy as well because my son's fifth birthday is coming, and I have to sew his Halloween costume, but I do want to make some time to go to local craft stores to see the new yarn and patterns. :) I miss doing that.
Hope everyone is doing fine! I've got my first flu in this season already. :(