My Crochetville Doily Swap partner,
Denise
, sent me this BEAUTIFUL doily!!!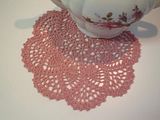 This doily has so much details, and the color is just so pretty!!!
I LOVE pineapple doilies, but I'm never good at pineapples so I'm very happy to be the owner of this one!!!
It is going to be a doily for my antique teapot-shaped music box.
I already had one of my own doilies for it, but this one is much, much better! I've already removed mine and put this doily instead. :D
THANK YOU SO MUCH, Denise!!! You made my day! (^^)