I was given this opportunity to review this book:
"Forget about outdated designs: Crochet! is all about cutting-edge needlework! These sophisticated handmade masterpieces-all in wools, silks, cottons, bamboo, and microfibers-range from dresses and cover-ups to accessories, home décor items, and toys. Eighty classic and fanciful stitches provide plenty of inspiration for crocheters of all levels, while 20 patterns-each with a photo of the finished project-round out this updated and comprehensive course."
* Click the image to view inside of the book *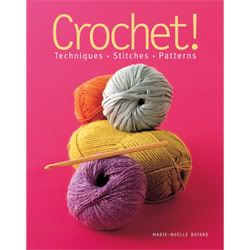 Crochet! Techniques, Stitches, Patterns
By Marie-Noelle Bayard
Flexibound
ISBN13: 978-1-936096-14-5
8 1/8x 10 5/8 inches • 224 pages

Product page on Sixth & Spring Books
This 224 page book is for beginner - advanced level crocheters. The photo tutorials are very clear, and crochet symbols (I believe all crocheters need to learn symbols!) include unique and advanced symbols in addition to basics. I really like this books for the tutorial of basic garment construction with explanations of types of armholes, necklines, and button holes!
Also, the pattern stitches and motifs are my most favorite part of this book! - There are beautiful fans, shells, textured, and unique stitch patterns including "raised scales", which has become widely known among crocheters rather recently as "
crocodile stitch
". Crocheters - Don't be afraid of advanced pattern stitches! :) They are just different combinations and repeats of basic stitches. In my opinion, beautiful and advanced pattern stitches can be done a lot more easily in crochet than knitting!
Patterns included are: bags, baby items (toy, sweater, blanket, booties), adults' pullovers, jacket, accessories (belt, slippers, scarves, beret, brooches), and home decor items (pillows, lamp shade). - Contemporary and useful. :) I'd say the skill level of these patterns are ranging from easy to advanced intermediate. The constructions of each design seem traditional, and I believe oh-so-very-important basics and lots more can be learned by completing these projects.
Great work, Ms. Marie-Noelle!!!